Testdrive: Nuforce Icon Hdp Review
When NuForce sent us their Icon HDP, we were intrigued by the value proposition that the California-based company was offering to demanding audio aficionados. The Icon HDP contains a sophisticated preamp, a quality DAC and a powerful headphone amplifier, housed in a sleek, aluminum chassis. Five reviewers spent serious time with the unit (their comments are in quotes below) after our Technology Editor performed 150 hours of appropriate "burn-in."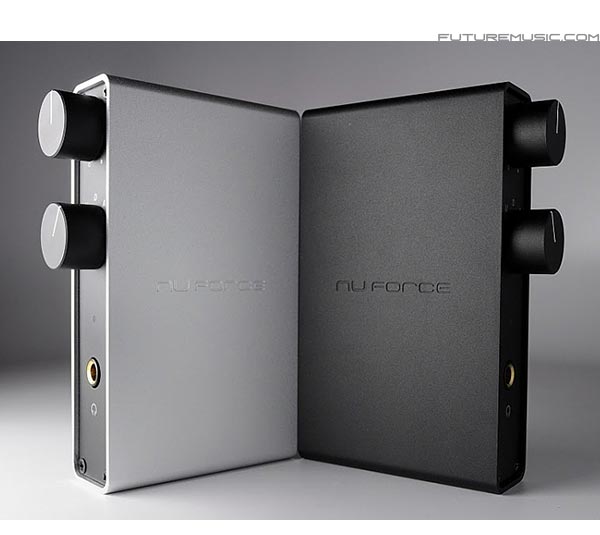 The NuForce Icon HDP comes in Silver or Black


Anyone who desires seriously good audio quality out of their computer, understands the need for a standalone product that can provide excellent digital audio conversion and then prep the signal via a preamp for output to a sound system. Consumers will often pay top dollar for just these two features. Now the fact that NuForce included a tremendous Class-A headphone amp, not only adds value to the equation, but also gives the HDP an extra dimension that won over the hearts, ears and wallets, of our evaluators. For this review, three of our testers used the HDP in their project studios, while the other two outputted the signal to their high-end audio systems, one using the Icon to interface a 24bit/96kHz media server.
Features:
» USB 2.0 Full Speed compliant and 1.1 supported
» 8-96kHz/16-24-bit (88.2kHz is not supported)
» S/PDIF input: Coaxial up to 192kHz/24-bit or Optical up to 192kHz/24-bit
» Analog input: 3.5mm or RCA input
» Audiophile-grade DA converter
» Low-distortion, high-current headphone amplifier
» Analog volume control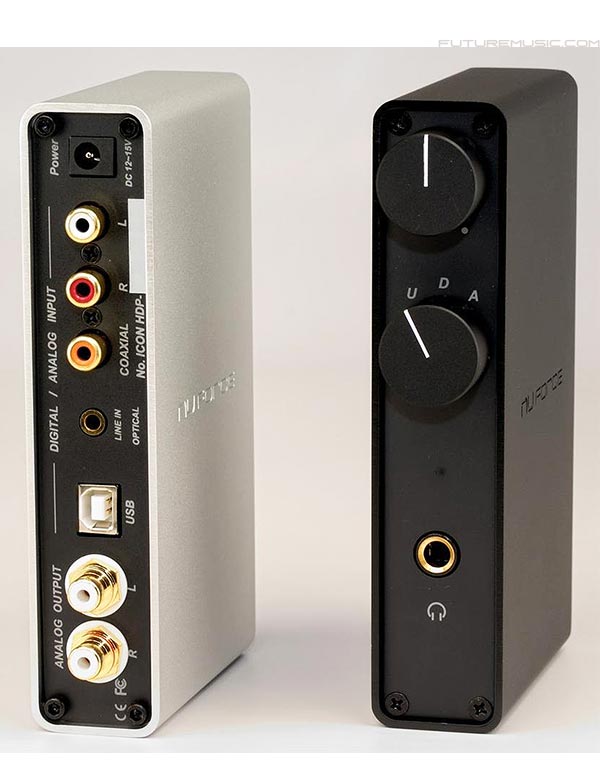 NuForce presents a lot of I/O options for such a small product



The NuForce Icon HDP features a 2.0 USB digital audio converter (USB 1.1 is supported) with a resolution of up to 24bit/96kHz, a S/PDIF digital to audio converter via coaxial connection (up to 24bit/192kHz), a 3.5mm optical/analog input, and a RCA analog stereo input. Analog output is served up via a stereo RCA output. Go ahead, say it: "no balanced 1.4"? No XLR output?" – we did too. But don't let this deter you from using the Icon HDP for music production, as you'll see from our reviewer's impressions below.
Headphone Amp
Although, there was some variations in what the reviewers had to say about the Icon HDP's preamp and DAC, every one gave a high-five to the headphone amp. "Powerful and wall-to-wall without over-reaching," stated one reviewer. "Full, meaty bass reproduction really brought out the lows in the AIAIAI TMA-1, Sennheiser HD600 and even the silky smooth V-Moda V-80," described another. "Using my custom-made in-ear monitors, I was only able to detect a hint of noise floor with the volume turned all the way up and a slightly biased left channel imbalance. Under normal listening conditions, no audible noise was present and the powerful amp was able to drive some of the more inefficient headphones in my collection without distortion."
The HDP provides a good arsenal of I/O despite the small footprint. You can connect a CD player or iPod via the 3.5mm minijack (which also doubles as an optical input, similar to a MacBook). The RCA Coaxial input ups the fidelity ante by providing support for 24bit/192kHz action, which the USB Type B port connects to your computer. No drivers are required on either the Mac or PC, simply plug it in and make your outboard connection.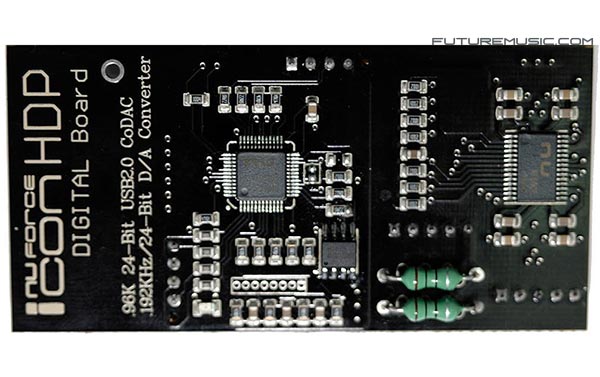 Digital To Audio Conversion
The three producers of our testers all commented positively about the "expansive stage" and "rich, deep bass" that the DAC provided. "You can certainly use the HDP and a laptop to comp vocals or work on the fly, it's that good." Another producer commented, "[the HDP] provides a detailed accounting, albeit a tad smoothed over, but certainly enough to provide solid monitoring with a good pair of cans." The tester utilizing the HDP for the tracks on his 24/96 media server felt "…you can certainly hear the advanced soundstage with excellent separation…that's detailed and deep on HD audio compared to other models in this price range…its obvious NuForce focuses a lot of attention on their DAC." Another commented, "The HDP is not as forward as the Cambridge DacMagic, which allows the sound to maintain a warmer and smoother signature, but there is some sacrifice on guitar leads and vocals."
Specifications:
» Analog Inputs
— RCA or 3.5mm when inserted
» Digital input
— S/PDIF – Coaxial or 3.5mm Optical when inserted. Coaxial up to 192kHz/24-bit or Optical up to 192kHz/24-bit
— Coaxial input impedance 75 Ohm
» USB Digital Audio Conversion
— USB 1.0 and 1.1 up to 44.1kHz/16-bit, USB 2.0 Full-Speed up to 96kHz/24-bit
— Note: 88.2 kHz is not supported
» RCA Output
— 2.6 Vrms (cuts off when headphone is inserted)
— Output impedance 100 Ohm
» Headphone Output
— 6.3mm full-size headphone output jack drives headphones up to 600-Ohm (96 [email protected])
— Output impedance 10 Ohm
» Headphone Power Spec:
— 288mW rms @ 30 Ohm
— 210mW rms @ 120 Ohm
— 152mW rms @ 300 Ohm
— 123mW rms @ 500 Ohm
— 96mW rms @ 600 Ohm
— 59mW rms @ 1200 Ohm
— 43mW rms @ 1700 Ohm
— 35mW rms @ 2000 Ohm
» THD+N – 0.001% @ 1kHz.
» Frequency response: 10Hz to 100kHz (-0.5dB) – SNR > 100dB
» Power Requirement: 12-15V, 1.6A, 100-240VAC (Worldwide AC).
» Dimension: 6″ x 4 1/2″ x 1″.
» Weight: 1 lb.
» Package Contents Include:
— Toslink to optical mini adapter
— 6.3mm stereo plug (male) to 3.5mm stereo connector (female) adapter
— Silicone stand
— AC adaptor (15V, 1.6A, 100-240VAC)
» Optional Accessories
— Linear power supply
— High performance USB cable
All reviewers found setup to be a breeze. Most opted for the vertical upright position, but one liked how he could place the Icon horizontally under his monitor. Everyone liked the large volume knob, but a couple discovered "pot noise" when "sweeping the knob from left to right." We don't know how many of you will be drastically changing the volume in this fashion, but since it was noted by two evaluators, we decided to include the observation. The silicone stand "had a weird odor when set up for the first time" but it dissipated by the time other reviewers got heir hands on the HDP. The second large knob on the front allows you to easily choose between the three different inputs USB, Digital, Analog. A blue LED informs you that the device is on and a 1/4" headphone jack rounds out the presentation.
The HDP has enough analog and digital I/O to satisfy most situations. Our tester who interfaced the unit with his media server found both the analog and digital outputs enough to meet his needs. "I tested both the RCA and coaxial outputs of the HDP and found them vastly superior to other solutions at this same price point." He found the sound to be "spacious" coming out of the analog RCA outputs to his Marantz Model 19 receiver, as well as his complete McIntosh reference system. The headphone amp was just "icing on the cake" but this feature "sets the Icon apart from current offerings" and "provided a solution to listening to 24/96 music remotely via my laptop in hotel rooms or other destinations away from my home rig."
Conclusion
At $449 retail, the NuForce Icon HDP is not for everyone, especially if you're looking for a complete music production audio interface solution with XLR outputs. However, it does pack a lot of punch into its small enclosure, sounds fantastic and provides an excellent headphone amp. For fastidious and discerning audio enthusiasts who are looking for much better audio quality out of their computer, as well as the ability to listen to high-resolution file formats in all their glory, the NuForce Icon HDP will not let you down.
                                                                                                                             » FutureMusic Rating: 85%


Cheers:
+ Build Quality
+ Compact
+ Headphone Amp
+ Setup
+ Audio Quality

Jeers:
– No XLR Output
– No 1/4" Output
Off The Record:
"Some may regard the onboard headphone amp as just icing on the cake, but I can see others determining this as the go-to feature on this bit of kit." —Greg Geller
"There's some other audiophile-quality devices on the market for outputting HD music from your computer, most notably the HRT lineup, but for the same amount of money, you get a lot more with the Icon." —Tim Lauren
"Cambridge's DacMagic is one of the Icon HDP's biggest competitors in this space. It doesn't feature the dedicated headphone amp, but does have XLR outputs, which will certainly appeal to readers who desire this attribute in an audiophile-grade, computer interface."         —Dan Brotman

The NuForce Icon HDP costs $449 and is available now from Amazon.
NuForce